Music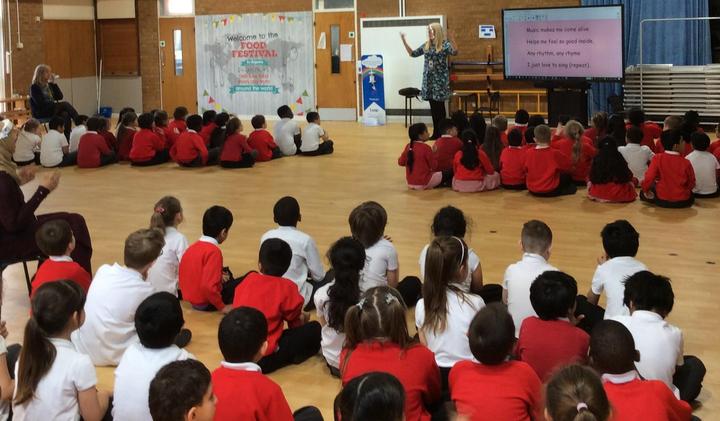 Intent
At Hillborough Primary School, our progressive scheme covers the National Curriculum in an integrated, practical and exploratory way. We have designed a curriculum that builds pupils' technical, constructive and expressive knowledge of music. The interrelated dimensions of music weave through both stages, from Early Years to Year 2, to encourage the development of musical skills as the learning progresses, through listening and appraising, differing musical activities (including creating and exploring) and performing. Our intention is to incrementally build the knowledge that pupils need to become musicians and to have an appreciation for music.
Implementation
In Early Years, pupils will:
speak and chant short phrases together
find their singing voice and begin to develop a sense of pitch
start and stop together
sing a variety of songs both accompanied and unaccompanied
make changes in their voices to express different moods/feelings
Year 1:
Explore and begin to understand the concepts of pulse and rhythm through songs, chants and rhymes, music games and activities and playing instruments.
Sing using their voices expressively and will also start to learn music ensemble skills when playing percussion instruments as a class.
Begin to learn about music notation
Work towards performances throughout the year
Year 2:
Learn to understand pulse and rhythm in much more depth, with an increased focus on independent work, as well as exploring the use of dynamics, pitch and tempo.
Sing, using their voices and bodies expressively, they will also learn to sing in rounds and two parts.
Learn to play the glockenspiels, continuing to follow standard notation, experimenting with the notes they learn to improvise and compose their own pieces.
They will begin to explore the sounds and names of the instruments of the orchestra, and have an introduction to the history of music.
Work towards performances throughout the year
Impact
The impact of our Music curriculum is monitored through both formative and summative assessment opportunities.
After the implementation of our school music service, pupils should leave primary school equipped with a range of skills to enable them to succeed in their transition to Key Stage 2 and to be able to enjoy and appreciate music throughout their lives.
Children will:
Be confident performers, composers and listeners and will be able to express themselves musically at and beyond school
Show an appreciation and respect for a wide range of musical styles from around the world and will understand how music is influenced by the wider cultural, social and historical contexts in which it is developed
Understand ways in which music can be written down to support performing and composing activities.